Best NFL Analytics Sites
American football is commonly referred to as being "a game of inches". And within the NFL, these inches can be the difference between a Super Bowl ring or being sent home disappointed and dismayed.
And with the rising popularity of NFL themed fantasy games and the recent popularity of football betting sites, inches matter now more than ever.
And whether you're looking to assemble the best fantasy football team or are looking to place a bet on an NFL team, understanding the numbers and analytics behind the story matters more than ever.
That's why, below, we are going to review the absolute best NFL analytics sites. These sites not only provide clarity to the noise but also do so in a beautiful, coherent, and readable manner.
Please note, however, that these NFL analytics sites were chosen based on our own usage of them. We have not been paid to promote any of the sites or tools here and only do so to help our readers further their understanding of the intricacies of the game.
NFL Savant
Perhaps the absolute best NFL analytics site is none other than NFL Savant. A website dedicated to providing advanced NFL statistics in a simple and easy to use interface, NFL Savant is completely free to use and offers a wealth of NFL information.
And while all the data is compiled from free sources, NFL Savant does a great job of providing the information in an easy to read and understand manner.
Further, with the ability to narrow down by a specific team or individual player, NFL Savant has become the go-to site for avid NFL fans looking to gain a deeper and further understanding of the game.
Football Outsiders
While we prefer NFL Savant, we have to give credit to Football Outsiders for bringing the world of analytics to casual and avid NFL fans. Founded by Aaron Schatz, whom The Ringer called, "the founding father of football analytics".
Football Outsiders is the original NFL analytics site and has compiled a wealth of proprietary analytical tools and ratings to better assist in determining a players abilities and a team's potential.
And while much of the information on Football Outsiders is provided for free, you will need to pay for a monthly subscription to access the full suite of information and analytical tools.
However, at just $4.99 a month, the subscription is relatively inexpensive and well-worth the investment if you are looking to dominate in your NFL fantasy league.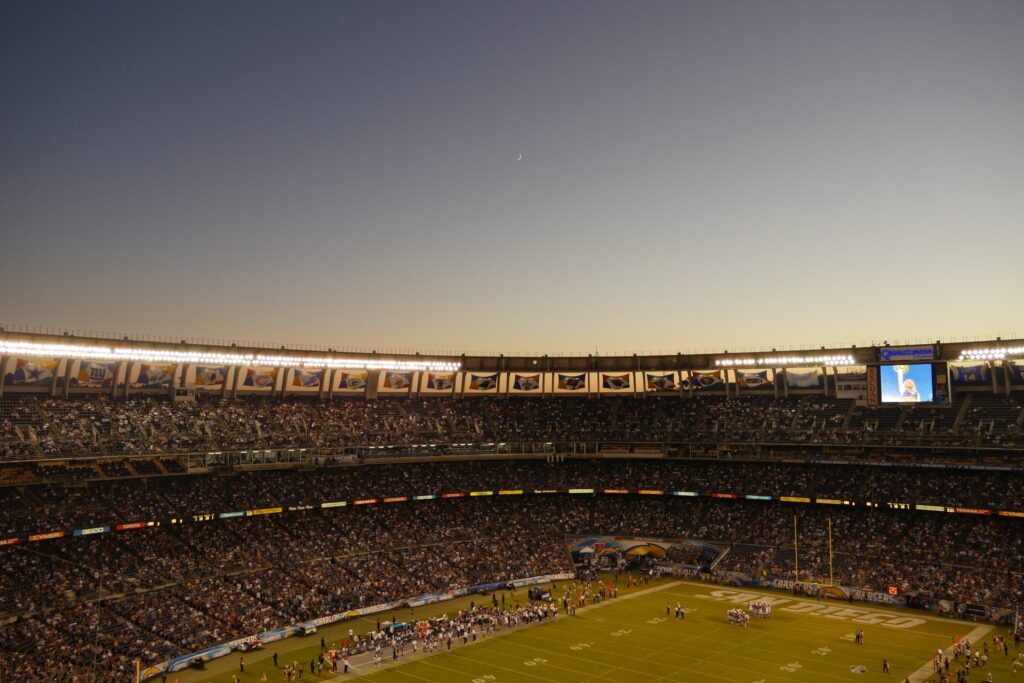 Pro Football Focus (PFF)
Pro Football Focus, or more commonly referred to as simply PFF, is one of the best and most in-depth NFL analytics sites available. PFF offers a wealth of NFL tools and charts to help even the most avid and knowledgeable fan make fantasy and betting decisions.
From player grades, to in-depth quarterback analysis, to yearly draft guides, to weekly power rankings, PFF really has it all.
Similarly, PFF produces 0–100 Player Grades and a range of advanced statistics for teams and players by watching, charting, and grading every player on every play in every game in the NFL. As the team at PFF states, #EveryPlayCounts.
Pro Football Reference
We'll admit, Pro Football Reference doesn't exactly have the most beautiful interface. However, they make up for it by providing a ton of information, down to each individual player and position, in a relatively understandable manner.
However, what really draws us to Pro Football Reference is their P-F-R Win Probability Model. A model based on Wayne Winston's Mathletics: How Gamblers, Managers, and Sports Enthusiasts Use Mathematics in Baseball, Basketball, and Football, Pro Football Reference makes real-time, live win probabilities and can help NFL fans more better understand the intricacies being made on the field.
Sharp Football Stats
Sharp Football Stats is a relatively newer NFL analytics site and that can be noticed quite quickly when visiting the site. Not exactly the prettiest design, Sharp Football Stats looks to focus more on providing the wealth of information than doing so in a pleasing manner.
However, if you're looking for a wealth of information and for free and without a single cost, then Sharp Football Stats should be one of your main go-tos. And with the ability to customize your viewpoints and data points, Sharp Football Stats is a great tool and one we keep in our repository.
Player Profiler
Perhaps one of the cleanest and most beautiful designs of any website we've ever visited, Player Profiler provides a clear and distilled snapshot on current NFL position players.
Utilizing advanced stats and metrics that help predict performance, Player Profiler leverages data analytics and statistical modeling to distill a wide range of opportunity, productivity, and efficiency-related information into a single, mobile-optimized player snapshot.
Some featured and notable data points include: College Dominator Rating, Breakout Age, Speed Score, Catch Radius, Sparq Score, Offensive Line Efficiency, Deep Ball Completion Percentage, Evaded Tackles, Production Premium, and Contested Catch Conversion Rate.