What do NBA Players do in a Day?
NBA players may appear to have some of the most luxurious lives. Travelling from city-to-city, getting paid to play basketball and practice the game, and living in some of the most expensive and posh cities in the country. These players appear to have it all.
However, being an NBA player isn't all fun and games. In fact, with an 82-game regular season, an All-Star Weekend play, and countless playoff games, NBA players are expected to maintain a high-level of performance and ability throughout the year and have little time off.
Furthermore, day-in and day-out, NBA players follow a regimented schedule and one that doesn't veer too much. Below, we are going to look at this daily schedule and discuss just what do NBA players do in a day. In addition, we will discuss just why NBA players have such a regimented schedule and how this schedule helps these players to perform at their best.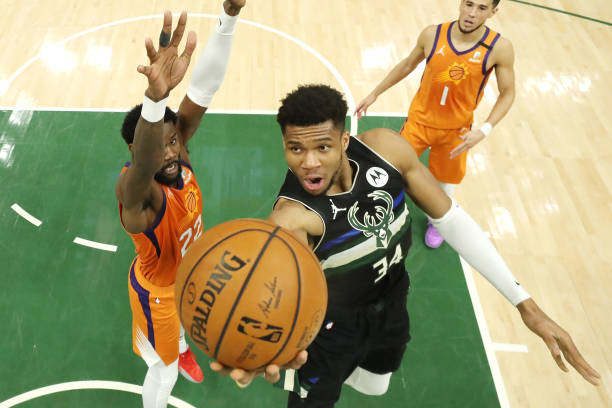 Why do NBA Players Have Such Regimented Schedules?
Making it to, and playing in, the NBA is no easy feat. Featuring the best players from around the globe, the NBA is the pinnacle of basketball excellence. And with players getting paid tens of millions for their abilities, signing multinational sponsorship deals, and being the face of the league, they are often required and expected to perform at a high-level day-in and day-out.
As such, NBA players, their respective franchise teams, and the league, in general, are extremely cautious in attempting to control, and ensure, that these players are healthy, well rested, and best equipped to deal with the rigors of playing in the league.
As a regular NBA season consists of 82 games, 41 of which occur on the road, players must be able to maintain a high-level of performance while staving off the effects of travel, practice, and the physical play of the game. Similarly, these players must be able to nurse underlying injuries and illness without having either affect their ability to play.
And lastly, NBA players must adhere to the team, and their coaches, expectations. Each team and coach will have varying expectations and demands from their players and many of these demands require an adherence to a strict schedule to allow for ample time for practice, nutrition, shootaround, travel, and game time.
Do NBA Players Have Downtime in Their Schedules?
While NBA players may appear superhuman, they are, after all, human. And as regular individuals, they require their own personal time to rest, relax, and recharge. And while NBA players definitely have more time for rest and relaxation both during the offseason and between games, they are given a few hours per day on gamedays to rest and recharge.
Typically, NBA players will relax and take some time to themselves on gamedays. This can include jumping on their preferred gaming console, watching some television, relaxing by the hotel pool, catching up with family and friends, and even spending some time to catch a movie.
However, as an NBA players schedule must be extremely regimented and regulate, particularly on gameday to ensure they make it to the game on time, these personal activities are limited to a couple of hours and NBA players are expected to be back to the hotel by a certain time.
A Regular Day in the Life of an NBA Player
Breakfast – on gameday, teams will typically meet between 8:30 AM to 10:00 AM for breakfast. This is generally a team breakfast, with healthy, hearty meals being served, including eggs and other protein sources.
Shootaround – following breakfast, teams will transport their players for shootaround. This typically occurs between 10:00 AM to 12:00 PM, allowing for approximately a 15-minute commute from the hotel to the stadium for time to practice.
Lunch – following shootarounds, NBA players will return to the hotel for lunch. Typically being served healthy options, players will eat lunch together between 12:00 PM to 2:30 PM. In addition, during this time, players and their respective team coaches will discuss strategy and the upcoming game plan for the game.
Personal Time – as mentioned above, NBA players will be provided with personal time to rest, relax, and recharge before the start of the game. This personal time is typically about 2-hours in length and usually ends at 4:30 PM. And, as mentioned above, during this time, NBA players will typically play video games, watch tv or a movie, or simply catch up with friends and family over the phone.
Pre-Game Transportation – between 4:30 PM to 5:00 PM, NBA players will be transported in a team-chartered bus to the stadium. Again, the distance and time to the stadium from the hotel is usually around 15-minutes.
Arrival and Warmups – once arrived, NBA players will head to their respective locker rooms and will also partake in additional warmups on the court. This typically occurs between 5:00 PM to 6:30 PM.
Pre-Game Meetings – before players dress for the game, they usually meet once more to discuss strategy and the upcoming game. This meeting is shorter in length, typically lasting only half-an-hour and between 6:30 PM to 7:00 PM.
Pre-Game Warmups – once dressed and ready for the game, NBA players will head to the court and will complete some final warmups. This includes taking shots from across the court, practicing their layups and free throws, and completing laps around the court. All this is typically done an hour before tipoff.
Game Time – typically lasting about two-and-a-half hours, NBA players will play the game in front of a live crowd at the respective stadium.
Post-Game Meeting – following the conclusion of the game, NBA players and their coaching staff will meet quickly to discuss the results of the game and discuss what occurred and what ways the team can improve and any adjustments that can be made for future games.
Post-Game Media Interviews – after meeting in the locker room and showering after the game, select NBA players will provide interviews to media staff and will discuss their thoughts on the game with those media personalities.
Transportation to Hotel – after the post-game interview, NBA players will join their team on the chartered bus and will return to their hotels.
Dinner – following the commute back to the hotel, NBA players and their team will have dinner. While many teams will have dinner together, some may opt to simply have the meal alone and in the comfort of their own hotel room.
Sleep – after dinner, most NBA players will retire to their hotel room and will go to sleep. With such a long day behind them, they are often exhausted and will typically go to bed early.