Shortest NBA Players By Position
Having a height advantage in basketball, and in the NBA, generally translates to a more successful NBA career. NBA players, while generally taller than their non-basketball playing counterparts, utilize their height advantage and longer wingspan to shoot over a defender, alter the trajectory of a shot, and more efficiently dunk the basketball.
However, we have seen time-and-time again that the NBA is not simply a league meant for taller players. Throughout the history of the league, there have been countless shorter players who have made an impact on both the league and their respective team's.
And while there are plenty of articles discussing the best shorter NBA players, we wanted to look at the best shortest NBA players by position specifically.
So, without further ado, just who are the shortest NBA players to play in each position since the league first started?
Bob Doll – Center
Standing at 6'5″, Robert W. Doll is the shortest center to play in the NBA. Born on August 10, 1919, Bob Doll played professional basketball for both the St. Louis Bombers as well as the Boston Celtics during the early years of the NBA.
Bob Doll starred at Chaffey High School in Ontario, California and played college basketball at the University of Colorado from 1939 to 1942. Known as a voracious and tenacious defender and rebounder, he led the team to its first NCAA Final Four appearance.
Following his collegiate career, Doll played several years in the Amateur Athletic Union and was named an AAU All-American in 1943.
In 1946, Doll joined the Basketball Association of America, playing for the St. Louis Bombers. After two years, he would join the Boston Celtics as a free agent for two additional years. And during his time with the Boston Celtics, the National Basketball League would merge with the Basketball Association of America to form the National Basketball Association (NBA).
John Chaney – Power Forward
At just 6'3″, John Chaney is the shortest NBA player to play the power forward position. Having played in the mid-1950's, not much was recorded or photographed regarding his individual career accomplishments or achievments.
However, what is known, is that John Chaney played college basketball for Louisiana State University (LSU) and, upon graduating, he would play for the National Basketball League and eventually the National Basketball Association.
The teams Chaney played for include the Syracuse Nationals, Tri-Cities Blackhawks and Sheboygan Red Skins. And while not particularly a notable player in either league, he is most well-known for his assistant coaching career.
Following his time in the NBA, Chaney became an assistant coach at LSU and played a significant role in the teams 1953 first-ever NCAA Final Four appearance, SEC championship, and 1954 SEC co-championship.
Don Grate – Small Forward
Similar to John Chaney, not much has been written or photographed on Don Grate. Born on August 27, 1923, he was both a former professional baseball and basketball player. Having played for the MLB, he was a right-handed pitcher for the Philadelphia Phillies and a small forward for the Sheboygan Red Skins.
The shortest small forward in NBA history at just 6'2″, Don Grate played in the early years of the NBA.
Born in Greenfield, Ohio, and nicknamed "Buckeye", Grate was a two-sport star at Ohio State University and played both baseball and basketball in the 1944 and 1945 seasons.
As a pitcher, he had a collegiate career totals of 95 strikeouts and only 25 walks in just 89 innings pitched.
And in basketball Grate was a two-time all-Big Ten selection and earned All-America honors as a senior after scoring 272 points in 21 games.
He was the captain of the 1944 team, leading Ohio State to a conference championship. Grate was inducted into the Ohio State Varsity O Hall of Fame in 1996.
Dana Barros – Shooting Guard
Dana Bruce Barros is the shortest shooting guard to play in the NBA, standing in at just 5'11".
Born on April 13, 1967, Barros played college basketball for Boston College and in 2017 had his number 3 retired by the team after having finished his college career as one of the school's all-time leading scorers.
Professionally, Barros was drafted to the NBA by the Seattle SuperSonics with the 16th overall pick. However, he spent much of his time in Seattle as a backup to Gary Payton who was considered a more competent ball handler.
He would eventually be traded to the Philadelphia 76ers and saw much more playing time with the team. During his time with the 76ers, Barros would become an NBA All-Star in the 1995 season and would also be awarded the NBA Most Improved Player award the same year.
After his time in the NBA, Barros has opened a basketball sports complex. Initially built in Mansfield, Massachusetts, the project proved costly, requiring the project to be abandoned and re-envisioned in Stoughton, Massachusetts.
In addition, Barros works in the media relations department for the Boston Celtics and as a "basketball insider" for the New England Sports Network (NESN).
Muggsy Bogues – Point Guard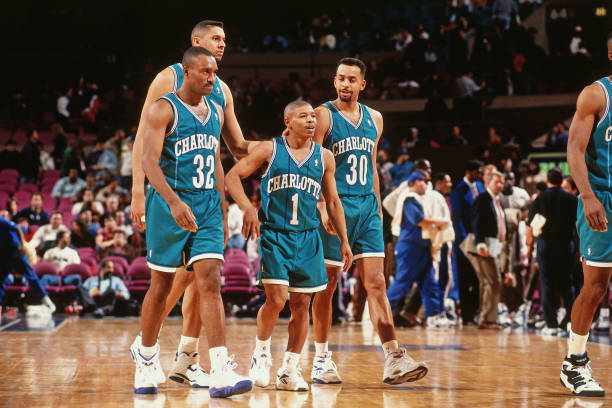 The shortest player to ever play in the NBA and the shortest point guard in the league, Tyrone Curtis "Muggsy" Bogues stood in at just 5'3″.
Born on January 9, 1965, Bogues was born in Baltimore, Maryland and grew up in the Lafayette Court housing projects. His father was just 5'5″ and his mother was just 4'11".
Having grown up in a troubled childhood, Muggsy Bogues was hit by a stray buckshot at just the age of five, requiring hospitalization. In addition, as a child, he witnessed a man get beaten to death with a baseball bat and saw his father get sentenced to twenty years in prison for armed robbery.
However, Bogues was a standout baseball player, basketball player, and wrestler.
He would eventually opt to pursue a career in basketball and was a standout player in high school. Bogues would attend and play four years at Wake Forest University where he would average 11.3 points, 8.4 assists and 3.1 steals per game in his junior year and 14.8 points, 9.5 assists, 3.8 rebounds and 2.4 steals per game in his senior year.
In 1986–87, Bogues led the Atlantic Coast Conference in steals and assists and received the Frances Pomeroy Naismith Award. And as a senior, he received the Arnold Palmer Award as Wake Forest's most valuable athlete. When his collegiate career ended, he was the ACC career leader in steals and assists.
Wake Forest retired his number within a few years of his leaving the program and in 2001 he was inducted into the Wake Forest Sports Hall of Fame. As of 2022, he remains Wake Forest's all-time leader in both steals and assists.
However, after his collegiate career, Bogues would be selected second overall in the 1987 United States Basketball League by the Rhode Island Gulls. In his only season with the league he averaged 22.2 points and 8.4 assists per game.
Following his time in the United States Basketball League, he would be drafted to the NBA in the 1987 NBA draft by the Washington Bullets with the twelfth overall pick.
Having played for four teams in his 14-season career, Bogues finished in the top seven in assists in six consecutive seasons (1989–1995) and in the top ten in steals in three of those seasons. He had 146 career NBA double-doubles.