NFL Players Who Were Paralyzed
Football, and more specifically the NFL, is one of the most popular sports in the United States. With millions of fans packing the stadiums on any given Sunday, the sport draws millions of fans and thousands of hopeful prospects.
However, although football and the NFL are some of the most popular sports in the United States, the risk of both minor and serious injury are ever-present in the game. From ACL tears, to broken bones, to concussions and head injuries, NFL and football players place themselves in harms way each and every game.
And while many of the injuries suffered by both NFL and football players are minor, some players do suffer serious injuries. Below, we are going to review the list of NFL players who were paralyzed while playing the game.
These players risked it all for the game and, unfortunately, paid for it with a loss of both motor and functional skills.
Eric LeGrand
Born on September 4, 1990, Eric LeGrand is a former football defensive tackle. Although never making it to the NFL, he played college football at Rutgers University. While making a tackle in an October 2010 game, Eric became paralyzed below his shoulders.
On October 16, 2010, Rutgers University faced off against the Army in East Rutherford, New Jersey, at MetLife Stadium. On a kickoff to Army, Eric unintentionally placed his head down while running and ended up driving the crown of his head into the shoulder of the ball carrier.
The hit left Eric on the ground, requiring him to be carted off the field, unable to breathe or move his head. He attempted to force a thumbs up to the crowd but was unable to do so, stating, "it felt like a thousand pound cinder block was holding me down."
Eric was taken to Hackensack University Medical Center in Hackensack, New Jersey, where doctors determined that he was paralyzed from the neck down. On the play, he had fractured his C3 and C4 cervical vertebrae.
Reggie Brown
Reggie Brown is a former NFL linebacker. Born on September 28, 1974, he attended Texas A&M for his college football career before being drafted by the Detroit Lions in the first round of the 1996 NFL Draft.
During his time at Texas A&M he earned first team All-Southwest Conference honors for his senior year, during which time he recorded 90 tackles and 2 interceptions.
Selected by the Detroit Lions in the first round, and with the 17th pick, he would record 2.5 sacks in his second season along with two interceptions, both of which went for touchdown returns. However, in his final game, Brown suffered a spinal cord contusion while assisting on a tackle against a New York Jets player.
Brown lay motionless on the field for over 17 minutes. During that time, he lost consciousness, needing CPR to save his life. With emergency surgery, rehabilitation, and the use of a special back brace, Brown was able to be saved from having to use a wheelchair for the remainder of his life.
Darryl Stingley
Darryl Stingley was born on September 18, 1951 and passed away on April 5, 2007. He was a former wide receiver and played for five years for the New England Patriots. A standout running back and honor student at Chicago's John Marshall High School, he accepted a football scholarship to Purdue University.
Selected nineteenth overall in the 1973 NFL Draft by the New England Patriots, he would have 110 receptions for 1,883 yards and 14 touchdowns in 60 regular season games for the Patriots. However, in 1978 during a preseason game against the Oakland Raiders, Stingley was hit by Raiders defensive back Jack Tatum.
As Stingley reached for a pass, he and Tatum collided. His helmet made contact with Tatum's shoulder pad, compressing his spinal cord and breaking his fourth and fifth cervical vertebrae. Although he gained limited movement in his right arm, he spent the rest of his life as a quadriplegic.
Mike Utley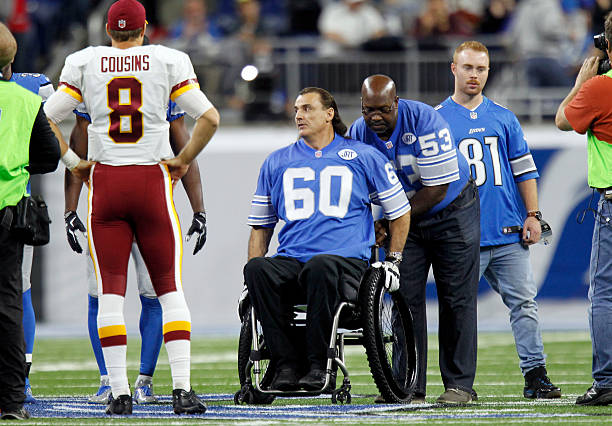 Born on December 20, 1965, Mike Utley is a former NFL player who played for the Detroit Lions from 1989 through 1991. A graduate of Kennedy Catholic High School in Seattle, Utley attended Washington State University and played football for the team.
Picked in the third round of the 1989 NFL Draft by the Detroit Lions, Utley became a starting right guard in his rookie season and started the first five games before being placed on the inured reserve list.
However, in 1991, in a game against the Los Angeles Rams, Utley would suffer an injury which would affect his sixth and seventh cervical vertebrae. The injury would leave him paralyzed from the chest down for the remainder of his life.
Kevin Everett
Born on February 5, 1982, Kevin Everett is a former NFL tight end who played for the Buffalo Bills. Drafted by the Bills in the third round of the 2005 NFL Draft, he had played college football at the University of Miami after transferring from Kilgore College.
However, on September 9, 2007, Kevin Everett suffered a fractured and dislocated cervical spine, which was characterized by doctors as "life threatening". The injury would likely leave him with permanent neurological impairment but Everett was able to regain movement in his arms and legs.