Interesting and True Facts About Michael Jordan
Although Michael Jordan last laced up professionally nearly two-decades ago, the fascination and aura surrounding him is as strong as ever. And since the release of the ESPN and Netflix documentary, The Last Dance, talk of the greatest basketball player of all-time has once again heated up.
Below, we are going to review some of the best, most interesting and true facts about Michael Jordan. From his younger years, to his fifteen years spent in the league, to his time after the NBA, Michael Jordan is a legend in his own right and few, if any, players can ever fully surpass his basketball greatness and acumen.
Facts About Michael Jordan's Early Life
Michael Jordan was born on February 17, 1963
He was born at Cumberland Hospital in Fort Greene, Brooklyn, New York City
Michael Jordan's middle name is Jeffrey
He is the son of Deloris and James R. Jordan Sr.
His mother was a bank employee and his father was an equipment supervisor
He is the fourth of five children
In 1986, his family moved from New York to Wilmington, North Carolina
In high school, Michael Jordan played basketball, baseball, and football
As a child, he idolized Magic Johnson and nicknamed himself "Magic Jordan"
He has aquaphobia, or the fear of water, due to a close friend's death up close in a body of water
Both his father and grandfather stuck their tongues out while concentrating, leading him to do the same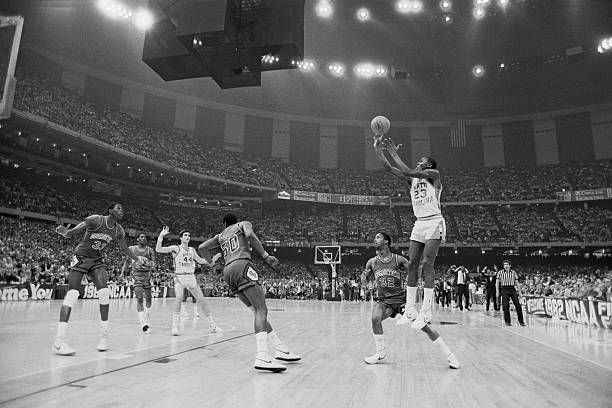 Facts About Michael Jordan in High School
Michael Jordan attended Emsley A. Laney High School in Wilmington
As a sophomore, Michael Jordan stood in at 5'11"
He tried out for the high school varsity team but was deemed too short
His friend, Harvest Leroy Smith, would be the only sophomore to make the varsity team that year
Jordan would later state on not making the cut for the varsity team, "It all started when Coach Herring cut me. What it did was instill some values in me. It was a lesson to me to dig within myself."
Jordan has been known to check into hotels under the alias of Leroy Smith, an ode to his high school friend
Jordan would join the high school's junior varsity team
Motivated to prove his worth, he would become the star of the junior varsity team and put up multiple 40-point games
The summer after his sophomore year, and before his junior one, he grew an additional four inches
In his junior year, he earned a spot on the high school varsity team
As a high school basketball player, he averaged more than 25 points per game
Before the start of his senior year, his father advised him to pursue a career as a mechanic
As a senior, he was selected to play in the esteemed McDonald's All-American Game in 1981
It would be his first game against future rival Patrick Ewing, though Ewing did not play
In the McDonald's All-American Game, Jordan would score 30 points
Jordan was heavily recruited out of high school by the top college programs
He received numerous scholarship offers, including from Duke University, South Carolina, Syracuse, and Virginia
Ultimately, he decided on the University of North Carolina at Chapel Hill
Facts About Michael Jordan in College
As a college student, he majored in cultural geography
Jordan played for one of the top basketball coaches of all time, Dean Smith
As a freshman, he was named the ACC Freshman of the Year
And in his freshman year he averaged 13.4 points per game on 53.4% shooting
In 1982, Michael Jordan and UNC advanced to the NCAA Championship game
In the NCAA Championship game against Georgetown, he sunk the game winning jump shot
Incidentally, Patrick Ewing was playing for Georgetown that day
Michael Jordan would later describe that shot as a major turning point in his basketball career
Jordan played for the Tar Heels for three years
During his three seasons, he averaged 17.7 points, on 54% shooting, 5 rebounds, and 1.8 assists per game
As a sophomore and junior in college, he was named to the NCAA All-American First Team by consensus
In his junior year, he won both the Naismith and Wooden College Player of the Year awards
Jordan left UNC one year before he was meant to graduate but would return in 1986 to complete his degree
He officially graduated with a Bachelor of Arts degree in geography
In 2002, Jordan was named to the ACC 50th Anniversary men's basketball team, which honored the 50 greatest players in ACC history
Facts About Michael Jordan in the NBA
Michael Jordan was drafted by the Chicago Bulls with the third overall pick in the 198 NBA draft
In the 1984 draft, Hakeem Olajuwon and Sam Bowie were selected first and second respectively
Citing the need by both the Rockets and Trail Blazers for a center, ESPN named the Blazers' choice of Bowie as the worst draft pick in North American professional sports history
Jordan made his NBA debut at Chicago Stadium on October 26, 1984 and scored 16 points
In 2021, a ticket stub from the game sold for a record $264,000
During his rookie 1984–85 season with the Bulls, Jordan averaged 28.2 ppg on 51.5% shooting
Jordan helped lift the Bulls to the playoffs in his first year, after the team had only won 35% of their games the previous year
Roy S. Johnson of The New York Times described him as "the phenomenal rookie of the Bulls"
As a rookie, Jordan appeared on the cover of Sports Illustrated with the heading "A Star Is Born"
He was also voted by fans as an All-Star starter in just his first year in the league
Many NBA veterans were upset with the attention Jordan received his first year and would not pass him the ball during the All-Star Game
Jordan would go on to win the NBA Rookie of the Year award
On August 26, 1985, Jordan played an exhibition game for Nike in Trieste, Italy and would shatter the glass backboard after a dunk
The shoes Jordan wore during the game were auctioned in August 2020 and sold for $615,000, a record for a pair of sneakers
Jordan broke his foot in the 1985-86 season and would miss 64 games
Returning for the 1986-87 season, he would become the second player after Wilt Chamberlain to score 3,000 points in a single season
In the same season, he averaged 37.1 points on 48.2% shooting
He would also become the first NBA player to record 200 steals and 100 blocks in a single season
Jordan would win his first league-wide MVP in the 1987-88 season
He was also named the NBA Defensive Player of the Year, averaging 1.6 blocks and 3.1 steals per game
On March 28, 1990, Jordan scored a career-high 69 points in a 117–113 road win over the Cavaliers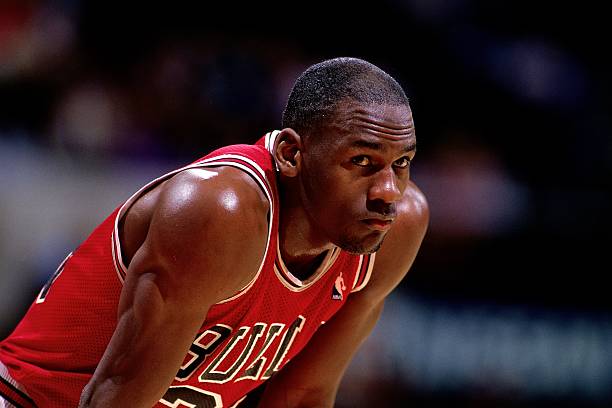 In the 1990–91 NBA season, Jordan won his second MVP award after averaging 31.5 point per game on 53.9% shooting, 6.0 rebounds per game, and 5.5 assists per game for the regular season
The Bulls finished in first place in their division for the first time in sixteen years
The Bulls advanced to the Finals for the first time in franchise history to face the Los Angeles Lakers and Magic Johnson. The Bulls won the series four games to one, and compiled a 15–2 playoff record along the way.
Jordan would win his first Finals MVP award
In the 1991-92 season, Jordan would win his second regular season MVP award
They would win their second championship and Jordan would again be named the Finals MVP
And in the 1992-93 season, Michael Jordan and the Bulls would once agin win the NBA finals and Jordan would be the first and only NBA payer to win three Finals MVP awards in a row
During his time in the NBA, Jordan was notorious for his gambling addiction
In 1992, he admitted to having to cover $57,000 in gambling losses
Rumor states that Jordan's 1993 retirement was a secret suspension by the league for gambling but David Stern, the commissioner of the NBA, denied those claims
In 2005, Jordan discussed his gambling habits with Ed Bradley of 60 Minutes, stating, "Yeah, I've gotten myself into situations where I would not walk away and I've pushed the envelope. Is that compulsive? Yeah, it depends on how you look at it. If you're willing to jeopardize your livelihood and your family, then yeah."
James R. Jordan Sr., Michael Jordan's father, was murdered on July 23, 1993, at a highway rest area in Lumberton, North Carolina
He was murdered by two teenagers, Daniel Green and Larry Martin Demery, who carjacked his Lexus bearing the license plate "UNC 0023"
His body was dumped in a South Carolina swamp and was not discovered until August 3
The teens were found after making calls on James' cell phone and were convicted at trial and sentenced to life in prison
On October 6, 1993, Jordan announced his retirement, initially stating that he lost his desire to play basketball
However, he would later say that the death of his father three months earlier helped to shape his decision to retire
However, on February 7, 1994, Jordan would sign with the Chicago White Sox of the MLB
Jordan would say the decision was spurred by his father, who had always dreamed of seeing his son play in the MLB
The White Sox were owned by Bulls owner Jerry Reinsdorf, who continued to honor Jordan's basketball contract during the years he played baseball
Playing for the Birmingham Barons, a Double-A minor league affiliated with the Chicago White Sox, Jordan would bat .202 with three home runs, 51 runs batted in, 30 stolen bases, 114 strikeouts, 51 bases on balls, and 11 errors
During this time, the Chicago Bulls retired his number 23 and erected a permanent sculpture known as The Spirit outside the new United Center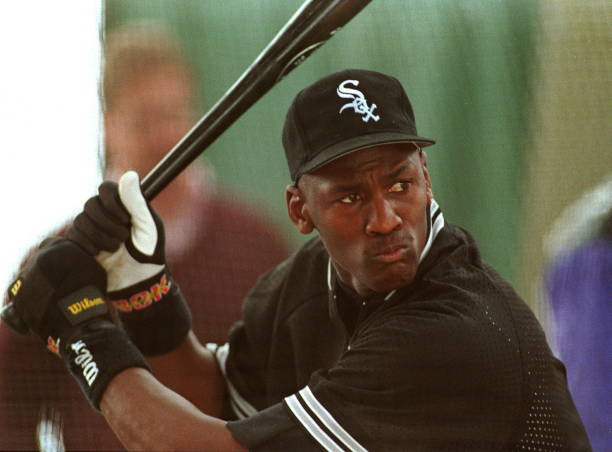 In 1995, Jordan would return to the NBA and the Chicago Bulls, announcing his return to the NBA through a two-word press release: "I'm back"
When he returned, he opted to wear the number 45, though he could have worn his retired number
However, he would resume wearing his old number soon after
Interestingly, the NBA fined the Bulls $25,000 for failing to report the number change to the league
In the 1995-96 season, Michael Jordan and the Bulls set a then NBA record regular season record of 72-10
Jordan would lead the league in scoring and would be named the league's regular season and All-Star Game MVP
The Bulls would win the NBA championship once more and Jordan would be named to his fourth Finals MVP award
During the 1997 NBA All-Star Game, Jordan posted the first triple-double in All-Star Game history
That same year, the Bulls would win another NBA championship and Jordan would receive his fifth Finals MVP award
In the 1997-98 NBA season, Jordan led the league with 28.7 points per game and secured his fifth regular season MVP award, plus honors for All-NBA First Team, First Defensive Team, and the All-Star Game MVP
That same season, the Bulls won another NBA championship and Jordan would be awarded his sixth Finals MVP
Jordan's six Finals MVPs is a record
The 1998 NBA Finals holds the highest television rating of any Finals series in history and Game 6 holds the highest television rating of any game in NBA history
Jordan retired for the second time on January 13, 1999
On January 19, 2000, Jordan became part owner and president of basketball operations for the Washington Wizards
On September 25, 2001, Jordan announced his return to the NBA to play for the Washington Wizards
While playing for the Wizards, Jordan would donate his salary as a player to a relief effort for the victims of the September 11 attacks
Playing in his 14th and final NBA All-Star Game in 2003, Jordan passed Kareem Abdul-Jabbar as the all-time leading scorer in All-Star Game history, a record since broken by Kobe Bryant and LeBron James
In the 2003 NBA All-Star Game, he was offered the starting position from Tracy McGrady and Allen Iverson but refused both and accepted Vince Carter's offer
Playing for the Washington Wizards in his last season, he received a four-minute standing ovation from the crowd at the United Center in Chicago
The Miami Heat retired the No. 23 jersey on April 11, 2003, even though Jordan never played for the team
Random Basketball Facts About Michael Jordan
Jordan was a shooting guard who could also play as a small forward
He was a clutch performer in the NBA and decided 25 games in the last 30 seconds, including two NBA Finals games and five playoff games
Jordan often used perceived slights to fuel his performances, often describing the slightest offense as what fueled him harder
Sportswriter Wright Thompson described him as "a killer, in the Darwinian sense of the word, immediately sensing and attacking someone's weakest spot"
The Bulls organization often had to trade players Jordan deemed were not "tough enough" to compete with him in practice
Although Jordan spent countless hours watching film, on offense he relied more on instinct and improvisation
Noted as a durable player, Jordan did not miss four or more games while active for a full season
He played all 82 regular season games nine times in his 15 season career in the NBA
He has never lost three games in a row during his early career
Jordan had a special "Love of the Game Clause" written into his contract which allowed him to play basketball against anyone at any time, anywhere
Jordan has frequently cited David Thompson, Walter Davis, and Jerry West as influences
His 8,772 free throw attempts are the 11th-highest total in NBA history and showcase his willingness and ability to drive to the basket
Jordan ranks third in NBA history in total steals with 2,514
The great basketball player Jerry West often stated that he was more impressed with Jordan's defensive contributions than his offensive ones and Doc Rivers stated he was "the best superstar defender in the history of the game"
Jordan was also known to have strong eyesight with broadcaster Al Michaels saying that he was able to read baseball box scores on a 27-inch television clearly from about 50 feet away
Larry Bird said that rookie Jordan was the best player he ever saw, and that he was "one of a kind", and comparable to Wayne Gretzky as an athlete and on April 20, 1986, after scoring 63 points against the Celtics, Bird would describe him as "God disguised as Michael Jordan"
Jordan led the NBA in scoring in 10 seasons, an NBA record, and tied Wilt Chamberlain's record of seven consecutive scoring titles
Jordan also holds the top career regular season and playoff scoring averages of 30.1 and 33.4 points per game respectively
Jordan's total of 5,987 points in the playoffs is the second-highest among NBA career playoff scoring leaders
In addition, he is currently fifth in the all-time scoring list with 32,292 regular season points
He was also named one of the 50 Greatest Players in NBA History in 1996 and selected to the NBA 75th Anniversary Team in 2021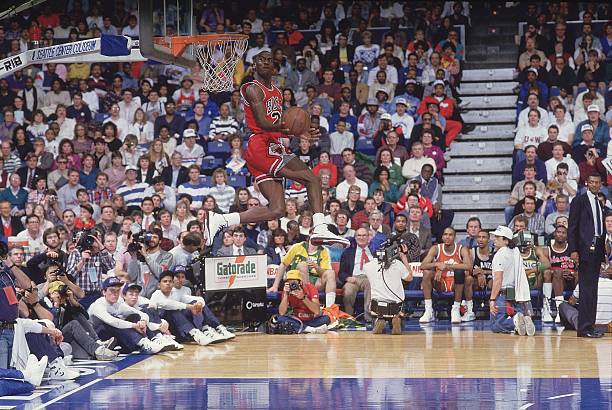 Jordan is one of only seven players in history to win an NCAA championship, an NBA championship, and an Olympic gold medal
In the All-Star Game fan ballot, Jordan received the most votes nine times, more than any other player
Magic Johnson would quip on Jordan, "there's Michael Jordan and then there is the rest of us"
Jordan has appeared on the front cover of Sports Illustrated a record 50 times
He also won back-to-back Slam Dunk Contest championships in 1987 and 1988
Television ratings for the NBA only increased during his time in the league
In August 2009, the Naismith Memorial Basketball Hall of Fame in Springfield, Massachusetts, opened a Michael Jordan exhibit that contained items from his college and NBA careers as well as from the 1992 "Dream Team"; the exhibit also has a batting baseball glove to signify Jordan's short career in the Minor League Baseball
Jordan was inducted into the Naismith Memorial Basketball Hall of Fame in 2009
In 2016, President Barack Obama honored Jordan with the Presidential Medal of Freedom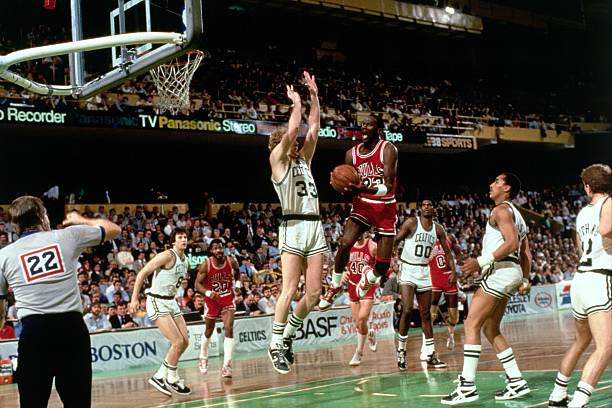 Facts About Michael Jordan's Personal Life
Jordan married Juanita Vanoy on September 2, 1989 and had two sons and a daughter together
The couple filed for a divorce in 2002, citing irreconcilable differences
The couple would reconcile but would once again file for divorce
It has been reported that Juanita received a $168 million settlement at the divorce
In 1991, Jordan purchased a lot in Highland Park, Illinois, where he built a 56,000 square-foot mansion
He listed the mansion for sale in 2012
Jordan owns multiple homes in North Carolina and Jupiter Island, Florida
Jordan proposed to Yvette Prieto in 2011 and were married in 2013
In 2014, Yvette gave birth to identical twin daughters
In 2019, Jordan became a grandfather when his daughter Jasmine gave birth to a son
His son-in-law is the professional basketball player Rakeem Christmas
Business and Money Facts About Michael Jordan
Michael Jordan has authored several books on his life, basketball, and his own world views
He also played himself in the box office film Space Jame, which made $230 million worldwide and over $1 billion through merchandise sales
In 2000, he was the subject of an IMAX documentary titled Michael Jordan to the Max
In 2020, the documentary The Last Dance debuted on ESPN which went more in-depth on his time with the Chicago Bulls
The Make-A-Wish Foundation named Jordan its Chief Wish Ambassador in 2008 and in 2013 he granted his 200th wish for the organization
From 2001 to 2014, Jordan hosted an annual golf tournament, the Michael Jordan Celebrity Invitational, that raised money for various charities
In 2006, he pledged $5 million to Chicago's Hales Franciscan High School
Michael Jordan and The Jordan Brand have made donations to Habitat for Humanity and a Louisiana branch of the Boys & Girls Clubs of America
On June 5, 2020, in the wake of the murder of George Floyd, Jordan and his brand announced in a joint statement that they would be donating $100 million over the next 10 years to organizations dedicated to "ensuring racial equality, social justice and greater access to education"
He has also given size-able donations to help those affected by hurricanes in his home state of North Carolin
Jordan has been a major spokesman for such brands as Nike, Coca-Cola, Chevrolet, Gatorade, McDonald's, Ball Park Franks, Rayovac, Wheaties, Hanes, and MCI.
He has appeared in over 20 commercials for Gatorade
In 1984, Nike created the signature Jordan shoe, called the Air Jordan
Jordan's endorsement with Nike was engineered by his agent David Falk, who came up with the concept of Air Jordan
Jordan would state on Falk as being, "the best at what he does"
Since 2008, Jordan's yearly income from the endorsements is estimated to be over $40 million
Jordan's yearly contracts in the NBA were typically in excess of $30 million due to his ability to bring fans to the stadium
The Jordan brand generates over $1 billion in sales for Nike
Michael Jordan is also majority owner of the NBA's Charlotte Bobcats and part owner of the Miami Marlins of Major League Baseball
He is the first player in the history of the NBA to become a majority owner of an NBA team
In 2014, Jordan became the first NBA player to become a billionaire
As of 2022, his net worth is estimated to be in excess of $1.6 billion, making him the fifth-richest African-American, behind Robert F. Smith, David Steward, Oprah Winfrey, and Kanye West
In 2020, he also became an investor and advisor for DraftKings
Michael Jordan is affiliated with several restaurants, including the Michael Jordan Steakhouse in Grand Central Station Terminal in New York City
He also co-owns an automotive group in Durham, North Carolina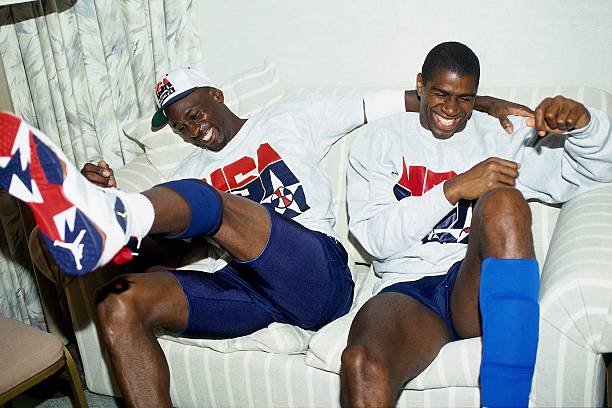 Random Fun and Interesting Facts About Michael Jordan
Michael Jordan is an avid cigar smoker
He enjoys playing golf and can often be seen on the golf course
He had a meal tradition he followed 4 hours before the start of ever basketball game. The meal consisted of a 23 ounce New York steak, a side of mashed potatoes (or baked potatoes if it was not available), and a salad on the side served with some ginger ale
His best friend works as a limousine driver
A type of salmonella was named after him by a doctor, so called Salmonella mjordan
He once commissioned an artist to design a dining room table for him. The table had exactly 32,292 holes in it to represent the total number of points Jordan scored in the regular season and it is proudly displayed in Jordan's home
Jordan has stated that his most memorable dunk was over Patrick Ewing in 1991
Michael Jordan is widely credited with ending the era of short-shorts in the NBA as he preferred longer, baggier shorts to grab onto when tired and fatigued
He has a single, small tattoo of an Omega horseshoe symbol over his heart, which references his time in his fraternity in college
He was a member of the Omega Psi Phi fraternity at UNC
In the early 1990s, he was also a cartoon superhero in the series "ProStars" with Bo Jackson and Wayne Gretzky
When Jordan first began wearing his Air Jordan shoes, the NBA fined him $5,000 each game as they were against dress code. These fines, coincidentally, helped to further popularize the brand
The late Kim Jong-il of North Korea was a Michael Jordan fan in the 1990s. And he was given an autographed Michael Jordan basketball by Secretary of State Albright in 2000