How Long Will LeBron James Play in the NBA?
LeBron James, is perhaps, one of the greatest basketball players to play in the NBA in recent history. However, having been drafted in the 2003 NBA Draft, nearly 19-years ago, many people wonder just how much longer LeBron James will play in the NBA.
And while no-one truly knows for how much longer LeBron James is planning on remaining and playing in the NBA, there are a few hints and assumptions that can be made to better assist us with figuring out just how long LeBron James will play in the NBA.
Below, we are going to look at public comments and discussions made by LeBron Jams and his close associates in an attempt to fully understand just how long LeBron James is planning on staying in the NBA and when he may eventually decide to retire from the league.
Brief History of LeBron James
LeBron James was born on December 30, 1984, in Akron, Ohio. He was born to Gloria Marie James, who was just 16 at the time of his birth. Unfortunately, LeBron's father, Anthony McClelland had an extensive criminal record and was not involved in his life.
LeBron James would begin playing organized basketball in the fifth grade. For high school, LeBron James played for the St. Vincent-St. Mary High School, a private Catholic school. In his freshman year, James would average 21 points and 6 rebounds per game and in that season, the team would go 27-0, making them the only boys high school team in Ohio with an undefeated season.
In his sophomore year, James would average 25.2 points, 7.2 rebounds, 5.8 assists, and 3.8 steals per game. And for their home games, the St. Vincent-St. Mary team would play at the University of Akron's Rhodes Arena, capable of holding 5,492 fans, to accommodate James' popularity.
As a junior, LeBron would be featured in Slam, an American basketball magazine and would be lauded as, "the best high school basketball player in America right now." He also appeared on the cover of Sports Illustrated and would be selected to the USA Today All-USA First Team and would also become named to the Gatorade National Player of the Year. In his junior year, LeBron would finish the season averaging 29 points, 8.3 rebounds, 5.7 assists, and 3.3 steals per game.
James would take his game to the next level in his senior year, averaging 31.6 points, 9.6 rebounds, 4.6 assists, and 3.4 steals pr game. He would be named Ohio Mr. Basketball and would be selected again to the USA Today All-USA First Tam and the Gatorade National Player of the Year.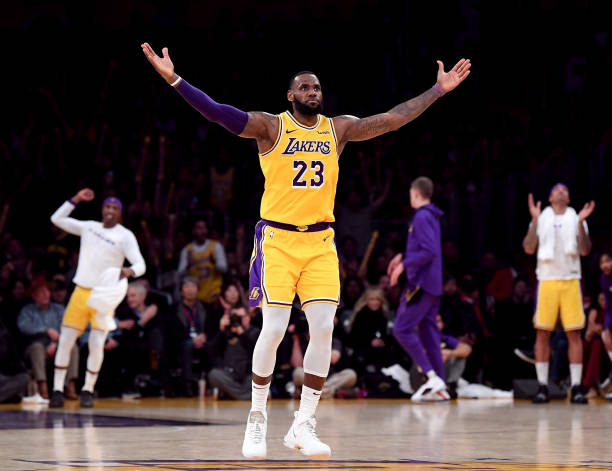 In the 2003 NBA Draft, LeBron Jams was selected as the first overall pick by his hometown team, the Cleveland Cavaliers. And while LeBron James has had a storied NBA career, his accolades and achievements are simply too great to list out here. Rather, below are a few notable contributions, awards, and successes LeBron has had in his time in the NBA.
4x NBA Champion (2012, 2013, 2016, 2020)
4x NBA Finals MVP (2012, 2013, 2016, 2020)
4x NBA Most Valuable Player (2009, 2010, 2012, 2013)
18x NBA All-Star (2005-2022)
3x NBA All-Star Game MVP (2006, 2008, 2018)
13x All-NBA First Team (2006, 2008-2018, 2020)
5x NBA All-Defensive First Team (2009-2013)
NBA Rookie of the Year (2003)
NBA Scoring Champion (2008)
NBA Assists Leader (2020)
3x Sports Illustrated Sportsperson of the Year (2012, 2016, 2020)
Time Athlete of the Year (2020)
Factors That Go into James' Eventual Retirement
LeBron James, currently, is 37 years old. And from the 2003 NBA Draft class, just he and Carmelo Anthony remain as current NBA players. In fact, LeBron James has not only outlasted many of his 2003 draft classmen but has surpassed many great players to join the league after him. And at the age of 37, one cannot help but wonder just when LeBron James plans to retire from the league.
Below are some reasons why LeBron James may choose to remain in the league for the foreseeable future.
Contract with the Los Angeles Lakers – LeBron James is currently signed with the Los Angeles Lakers through the 2022-23 NB season, during which he will earn an estimated $44.5 million. Thereafter, he will become an unrestricted free agent, at the age of 38 and after his 20th NBA season.
NBA All-Time Points Leader – another reason why LeBron James may stay in the NBA and choose to delay his retirement from the league is due to his relative closeness to breaking and surpassing the most points scored in the regular season by a player. Currently, the great and former Laker's star Kareem Abdul-Jabbar holds the title, having scored 38,387 points in his 21-season career. LeBron James is a mere 1,828 points away from tying the record. And as he is averaging roughly 27-points per game, he would need to play an additional 67 regular season games to claim the title.
Vying for an Additional Title – while LeBron James currently holds four NBA championships, he may be seeking a fifth ring to add to his collection. LeBron is extremely competitive and to hold up against the all-time greats, including Michael Jordan, Kobe Bryant, Magic Johnson, and Larry Bird, an additional ring would ensure his status as one of the greatest players of all-time.
Ability to Play – while LeBron James has suffered from injury during the regular season, most notably on his knees and lower back, he has been able to play for the majority of his seasons in the league. As such, he may decide against retirement so long as he is able to play at a high level and in a competitive fashion.
Desire to Play with his son – perhaps the most compelling of all reasons as to how long will LeBron James play in the league is due to the simple fact that he would like to play with his son, Bronny, before retiring. At the last NBA All-Star Game held in Cleveland, LeBron James stated, "wherever Bronny is at, that's where I'll be. I would do whatever it takes to play with my son for one year. It's not about the money at that point." And with Bronny being eligible to be drafted to the NBA at the age of 19, which would be for the 2024 NBA Draft, we believe LeBron James will retire the following season.
When Will LeBron James Retire from the NBA?
Looking at the above information, we believe that LeBron James will continue to play through the 2024-25 NBA season and will promptly announce his retirement thereafter. Doing so, LeBron James will retire at the age of 40 and once he has played one season with his son.
In addition, LeBron will likely look to cement his legacy as one of the all-time greats to play the game. He will likely claim the all-time points scored title and will have sufficient time to add additional points to that title. Similarly, with nearly two additional years remaining in the NBA, LeBron James will likely look to add another championship ring to his roster.